We are the center of excellence for fully machined and pre-assembled iron casting!
Innovativ • High speed action • Intelligent
We are a high-performance, medium-sized company with approximately 300 employees.
We specialize in the development, engineering and production of ready-to-install components made of grey, vermicular and spheroidal graphite cast iron.
On modern, flexible processing lines we produce – amongst other things – housings, axles, flywheels, brake discs and oil sumps.
With both self-manufactured products and bought-in parts we assemble ready-to-install system components for original equipment manufacturers in Europe, USA and Japan.
As a result of the close cooperation between our customers and our specialists in the foundry and Mechanical Processing Department, we are in a position to offer optimum solutions for each component with respect to quality and costs. Our Engineering Departments are
supported in this by state-of-the-art construction design-, CNC- and simulation-software.
A useful tool for your own research on the best possible casting material is the BDG Casting Adviser. After entering your required parameters (eg, hardness, elongation, tensile strength) you will get a selection of the possible casting materials. Entering a casting material you will get spent on these all parameters.
The strategic cooperation with our customers, design consulting, simultaneous engineering, model and tool development, as well as prototype production up to series production readinesss are a strong support for the efficiency and the quality level in the production of castings.
Our Engineering Department is equipped with correspondingly high-performance software for this purpose.
Moulding box dimensions
1050 x 780 x 300 / 250
1400 x 850 x 500 / 500
Production
Grey cast iron GG 15 – GG 35 und GG alloyed
Spheroidal graphite cast iron GGG 40 – GGG 70 and GGG alloyed
Vermicular graphite GGV
Unit weights
from 20 to 520 kg, shaped machines
Production level
25.000 t/year
In the machine shop we produce and finish in particular flywheels, brake and axle parts, oil sumps, clutch and gearbox housings
with the highest levels of precision.
For the manufacture of small, medium-sized and large production series we use state-of-the-art CNC-controlled individual machines, machining centres, special machines, transfer lines and highly automated, flexible manufacturing systems.
Supported
by our automated PPS system, we take the responsibility for the entire logistics process
required for supplying our customers with fully assembled products.
The integration of casting, priming/painting and mechanical processing into an optimised and controlled process enables the assembly of components which we both have produced ourselves and bought-in parts as well to form a ready-to-use product.
As a result of this process our customers can concentrate fully on their core competencies without being exposed to the daily stress of having to solve logistical problems.
Tel.:
0 28 74 / 39-0
Fax:
0 28 74 / 45-198
Mail:
sales@ihi.de
Supported by state-of-the-art measurement technology, our quality management system guarantees compliance with the agreed standards from the customer enquiry upto the shipping of the ready to use products.
Modern quality management methods such as the continuous improvement process combined with a highly motivated workforce form the basis for achieving our zero-fault target.
We are one of the few German iron foundry companies which can currently show that it uses a management system which is certified according to TS 16949 (Quality Management including ISO 9001) , ISO 14001 (Environmental Management) and ISO 50001 (Energy Management) as well.
Furthermore, we have ship and train service Approvals of all the major corporations.
Characterised by our outstanding customer focus, supported by our own not inconsiderable technical manufacturing capabilities, as well as an excellently conceived network of reliable subcontractors, we offer our customers an extremely flexible response to their constantly changing product and logistics requirements, as well as security of supply in emergencies.
We require…
Electrician m/f
Cutting Mechanic m/f
 Toolmaker m/f
motivated trainees for apprenticeships as
Technical model maker m/f
Cutting Mechanic m/f
Electrician m/f
Daniel Deiters
Telephone:
+49 (0) 28 74 / 39-221
Telefax:
+49 (0) 28 74 / 45-198
E-mail:
personal@ihi.de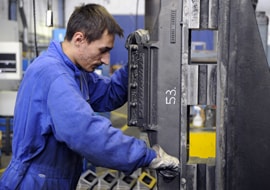 With an export share of over 50% we supply renowned customers worldwide with high-quality parts in the following fields: